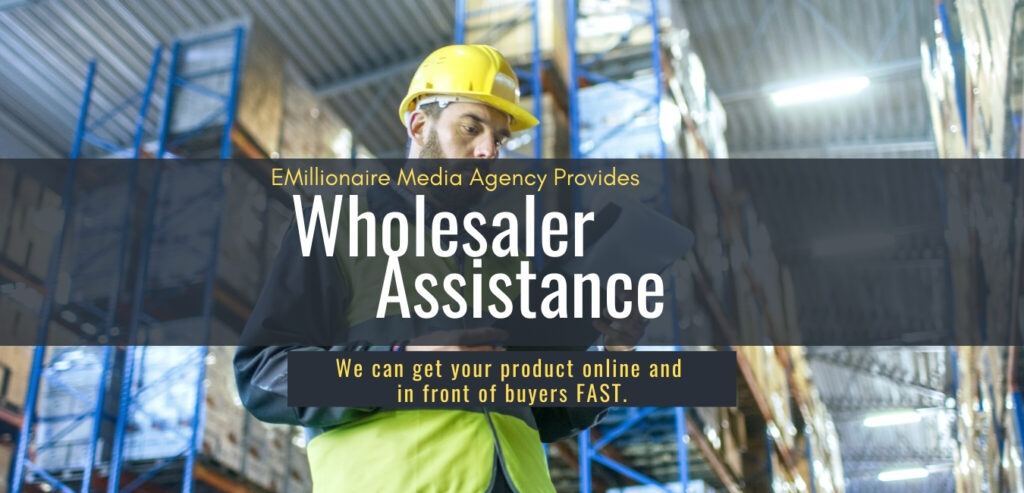 No more stress! We can support you!
What do you need help with getting online? We have a team of people ready to assist our wholesalers around the globe with their platforms and on immediate online needs.
As major buyer for retailers and representatives for wholesalers, we can get you online in the eCommerce marketplace fast. EMillionaire Media provides branding, social media, online marketing, e-commerce website creation and full-service agency that brands. We can represent you, market you, and we have platforms where we will buy from wholesalers and sell directly to consumers.
We privately represent nationally and globally and your needs are held in utter confidence.
EMillionaire Media Agency is growing to be one of the largest American e-commerce company. We represent start-ups, small, medium, and large brands, wholesalers, and companies online.
We provide immediate representation, joint, and individual marketing and online support for wholesalers, vendors and buyers needing a platform and online presence.
In addition, we provide Facebook brand posting, Instagram brand posting, Twitter brand posting, LinkedIn brand posting, Google My Pages posting, anything a company needs to be positioned in the marketplace online for brand presence, and to increase revenue streams.
We are one of the few open advertisers without interruption for our clients. We have supported brands, wholesalers and companies with over 1.5 Million posts in 2020 during COVID 19.
Let us help you get online and in front of retailers and/or consumers.